February month's protein jewelry – Oxytocin
The silver necklace shows the three dimensional structure of the nonapeptide oxytocin.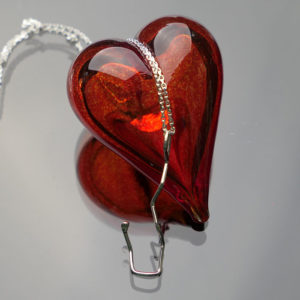 Valentine's Day is February the 14th. Maybe one day when you express your love for people you love and close friends.
Why not give them an oxytocin jewelry?
Oxytocin is a feel-good hormone and usually called the "Love hormone". It's released during physical contact, hugs, sex, childbirth and breastfeeding. In addition to heat and touch, the oxytocin activity increases by swimming. The effect increases by swimming often and regularly.
The Nobel Prize in Chemistry 1955 was awarded to Vincent du Vigneud for his work on the hormone oxytocin.