About me
Welcome to my web-site with handmade science inspired silver jewelry!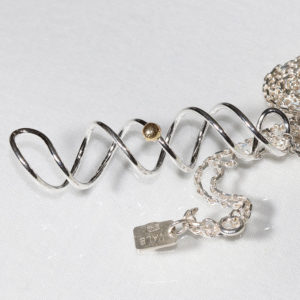 On this site you will find a selection of silver jewelry designed and made by me, Karin Valegård. January 2013 I started my business Valegård Design. On September 27, 2017, I transformed into a limited company.
I only work with Sterling Silver (silver 925) and fine silver (silver 999), sometimes combined with gold. All my jewelry is handmade and may vary slightly in design. Each jewelry is unique.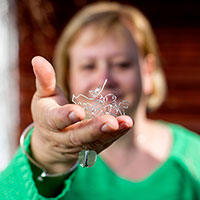 I am protein crystallographer, ie I determine the three-dimensional structure of proteins using X-ray crystallography. Proteins are molecules composed of amino acids in a long chain. They have many different functions depending on how the chain is folded. I love and I am very fascinated of protein structures. The schematic form is a jewel in itself and a few years ago I started to form protein structures in thin silver wire. I gave the first silver protein to my PhD student on her doctoral dissertation. I have continued to make different kinds of proteins in silver wire, as necklace or earrings.
I left research four years ago and am now focused on designing and manufacturing silver jewelry inspired by science.
On my web-side, I have protein like myoglobin, the first protein structure determined at the end of the 1950s, small molecules and DNA jewelry. A perfect silver piece of jewelry for you who are looking for a different gift.
In collaboration with the Nobel Museum, I have for the last seven years designed and manufactured silver jewelry inspired by the Nobel Prize in medicine, chemistry and the last five years in physics. This is a perfect piece of silver jewelry for you who are looking for a different gift.
Please contact me if you have any questions.
All silver jewelry is labeled VALE and the silver stamp 925 (Sterling Silver 925).
Exhibitions
December 2021, Christmas market, Hubben, Uppsala Science Park, Uppsala
December 2021, Christmas market, Löfstad slott, Norrköping

November/December 2021, Christmas market, Herresta Lada, Odensala
September 2021, Odensala art round , Herresta Lada, Odensala
August 2021, Sigtuna mötesrunda, Herresta Lada, Odensala

July 2021, "Silver jewelry inspired by science", Galleri Upsala, Uppsala
December 2020, Akademiska sjukhuset, Uppsala
July 2020, "Silver jewelry inspired by science", Galleri Upsala, Uppsala
June 2020, "Minimarknad", Stickspåret design shop, Uppsala
Mars 2020, Art Show, Galleri Zeitgeist, Saluhallen, Uppsala
December 2019, Christmas market, Hubben, Uppsala Science Park, Uppsala
December 2019, Christmas market, Linnés Kammare, Jumkil
December 2019, Christmas market, Radisson Blu Hotel, Uppsala
November 2019, Art Show, Galleri Zeitgeist, Saluhallen, Uppsala
November 2019, GE Healthcare, Boländerna, Uppsala
Oktober 2019, Uppsala Business Park, Fyrislund, Uppsala
Oktober 2019, Stickspåret design shop, Uppsala
Oktober 2019, Hubben, Uppsala Science Park, Uppsala
September 2019, Culture Night, Norrköping
September 2019, Culture Night, Uppsala
August/September 2019, Ulva market, Uppsala
July 2019, "Silver jewelry inspired by science", Galleri Upsala, Uppsala
April 2019, SciCruise, Stockholm-Turko
April 2019, GE Healthcare, Boländerna, Uppsala
March 2019, Uppsala Business Park, Uppsala
March 2019, SciFest, Uppsala
November 2018, GE Healthcare, Boländerna, Uppsala
November 2018, Uppsala Business Park, Uppsala
September 2018, Ulva market, Uppsala
April 2018, SciCruise, Stockholm-Turko
March 2018, SciFest, Uppsala
December 2017, Wallenberg Center for Molecule Medicine symposium, Linköping
Juni 2017, Structure biology conference, Tällberg
November 2016, "All light on Uppsala", Galleri Upsala, Uppsala
September 2016, Akademiska sjukhuset, Uppsala University Hospital, Uppsala
April 2016, Medical Products Agency, Uppsala
October 2015, "Light at Gallery Upsala", Galleri Upsala, Uppsala
Press
Sommarinspiratör – Valegård Design (Entreprenörden, 2020)
Hon skapar smycken med inspiration från vetenskap (Curie, 2019)
Från proteinkristallograf till silversmed (Tid & Smycken, nr1, 2019)
Dopamin – nu som smycke (Parkinsonjournalen, nr 1, 2019)
Silversmed avslöjar kristallers hemligheter (Universen, 2014)
Resellers
Sweden
Nyköping
Stockholm
Uppsala
UK
USA
Minneapolis